2531, 2532, 2533 & 2534 Lionel Lines Passenger Set (6+)
Product Description
Condition: 6+ Original Box: N/A Year: 1955
Here's an original four-car extruded aluminum passenger cars from the mid-1950's. Included in this passenger set are the following cars:
2531 Silver Dawn Observation

2532 Silver Range Vista Dome

2533 Silver Cloud Pullman

2534 Silver Bluff Pullman
Each passenger car has been thoroughly cleaned, serviced, tested and are ready for your layout. The couplers work properly as do all of the interior lights. There is no rust nor oxidation on three of the cars and the fourth cars has just the faintest signs of oxidation beginning near the trucks, but the frame is clean. Additionally, there are no nicks, chips dings or cracks on any of the passenger cars, but there are some minor surface marks from usage and the Silver Range vista dome is missing the nameplate on one side. Lastly, these passenger cars are a combination of rivets and glued on side name plates.
Want to learn more about the history of postwar Lionel trains (1945 - 1969), click here: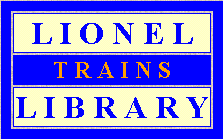 Find Similar Products by Category