2530, 2561, 2562 & 2563 Santa Fe Passenger Set (8+)
Product Description
Condition: 8+ Original Box: N/A Year: 1959
Now available for sale are the hard-to-find Santa Fe passenger cars from the 1959 / 1960 era. This particular set is in beautiful condition, extremely clean, has all-original side decals / striping and there are no signs of rust nor oxidation on any of the cars. Best of all, it's a matched set with the three passenger cars having the widely spaced lettering on the decals. Additionally, the 2530 is also correct for this set as it is the shiny version -- dating it to the 1959 era. Included in this set are the following cars:
2530 Railway Express Baggage Car

2561 Vista Valley Observation

2562 Regal Pass Vista Dome


2563 Indian Falls Pullman
Each passenger car has been thoroughly cleaned, serviced, tested and are ready for your layout. The couplers work properly as do all of the interior lights. There are no nicks, chips dings or cracks on any of the passenger cars and as mentioned above, all of the cars are a matched set with the widely spaced lettering.
Want to learn more about the history of postwar Lionel trains (1945 - 1969), click here: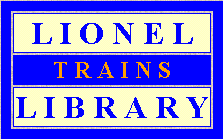 Find Similar Products by Category