2353 Santa Fe F3 AA Diesels (8/OB)
Product Description
Condition: 8 Original Box: Var Year: 1953
Up for sale is a beautiful, all-original set of 2353 Santa Fe F3 AA diesels with their original boxes, inserts and much more.
Both diesels have been thoroughly cleaned, serviced, tested and operate perfectly! The front decals are in nice condition, the exterior silver is clean and vibrant while the side lettering is complete and not worn nor faded. There are no nicks, chips nor blemishes on the exterior and the interior is just as clean as the exterior. There are a few paint rub marks on the exterior, but they are minimal. Additionally, the motors, couplers, horn, e-unit and lights have all been tested and all functionality works as designed and the motors run nice and smooth!
The power unit box and insert are solid and graded an 8+ to a 9 and look great. The trailer unit box is in decent condition, has both end and tuck flaps, but missing a couple of interior flaps, plus there is tape on several interior flaps. The trailer unit is graded a 6 to 7 and includes its original insert.
Finally, a set of original instructions and tube of lubricant are also included. One item to note is the rear cab on the trailer unit has a rivet stamped into the shell (as seen in one of the photos). This is a factory error as there is no rivet on the one side for the rear bracket, but rather was not properly set in the riveting machine 65 years ago -- but remains pressed into the shell! Don't miss out on this opportunity to own a beautiful set of 2353 Santa Fe F3's!

Want to learn more about the history of postwar Lionel trains (1945 - 1969), click here: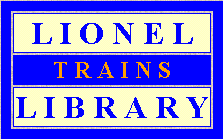 Find Similar Products by Category
Customers also viewed